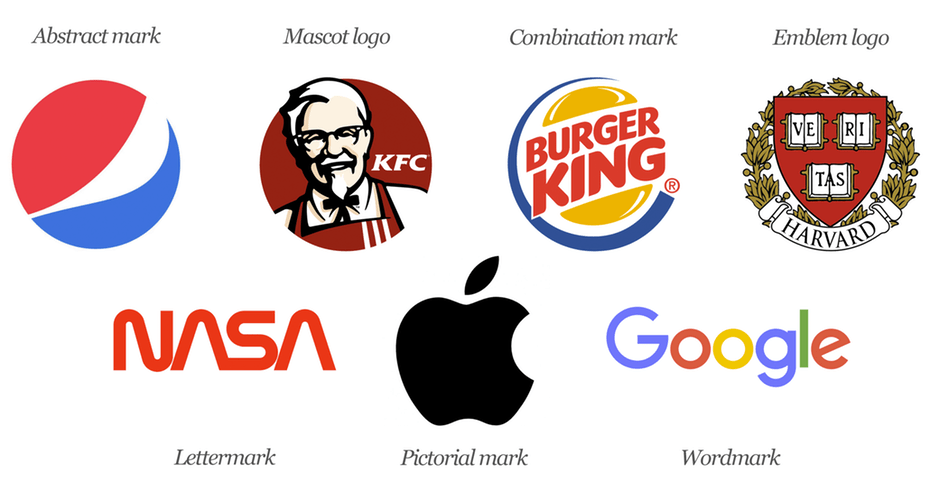 What do you mean by a logo?
In simple language, " Logo is a symbol or small design adopted by an organization or firm for the identification of their products. Having a catchy and eye-pleasing logo is a must for every brand or organization. Now, suppose you are going to start any company or business arrangement. Then you must need a logo for it. Else no one would be able to recognize your firm. A logo gives a recognition, an identification to your company. So, the next question that arises is how will you think of an apt logo design that would prove to be helpful in completely explaining the workings of your company in each and every aspect. Got trapped? Is it a difficult task for you to think for an ample logo? If so, then you need not to worry because here's the fire brigade for your rescue. In this blog, you will find types of logo designs that'll help you to make your brand more impressive and authentic.
Below mentioned are 7 types of logo designs that can help you to a great extend for deciding or designing an impressive, creative and unique logo of your own.
Monogram
Monogram logos are a type of logos that consists of letters, usually brand initials. Look for the logo of IBM and HBO for the clear idea of monograms.

Wordmark
Similar to a monogram, Wordmark logos are a font based logo focused on the business name. Examples of this type are logo of Google and FedEx.
Symbol
An icon/ graphic based logo around the first thing that comes to mind when you say the business name. The logo of Apple and Instagram falls under this category.

Abstract marks
A specific type of symbol logo. It's an abstract geometric mark that represents your business, but not literally. Like the logo of Adidas, bp, etc

Mascots
Logo that involves an illustrated character. For example – the logo of KFC and pringles.
Combination Mark
Burger King and Adobe are the few examples of combination mark type of logo. This type of logo combines any of the previously stated logotypes together.

Emblem
An emblem logo is designed to fit the text inside of a symbol or icon. The famous Starbucks logo and Warner Bros. logo are examples that fall under this category.

I hope these 7 types of logo designs prove to be very assistive and utile to you for scheming a masterpiece of your own.