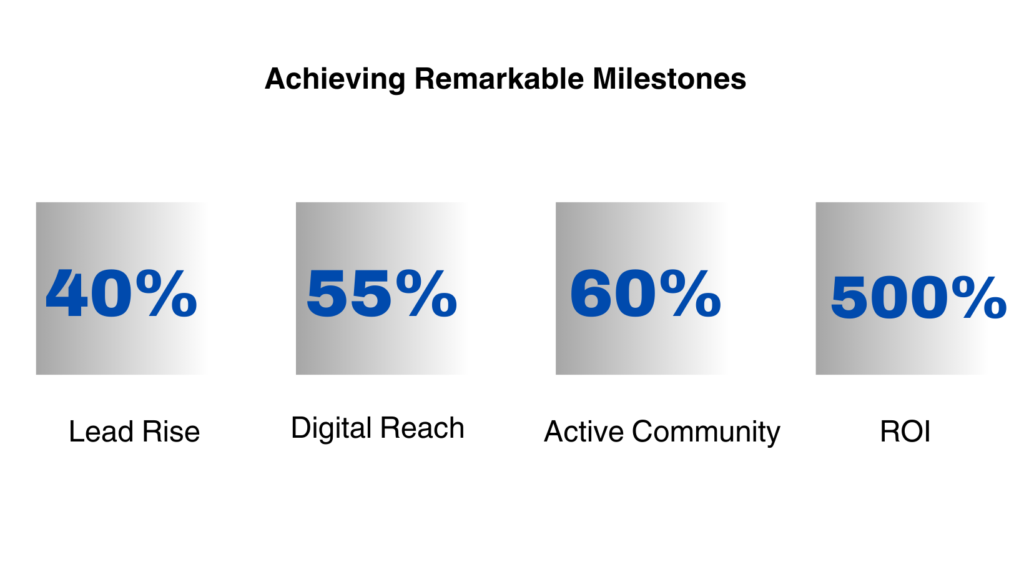 The Client: Leading Real Estate Agency
Our client, a well-established real estate agency with a diverse portfolio of properties, was determined to strengthen its market position. As a dynamic and forward-thinking agency, their agency specializes in providing exemplary real estate services, connecting buyers and sellers with their dream properties. With a commitment to excellence and a wide range of listings, they aspired to become the go-to choice for prospective buyers and sellers. So, we helped our client with best-ever content campaign strategy.
The Goal
Our client, a prominent real estate agency, faced a challenge and wanted a comprehensive solution to increase both lead generation and brand visibility. Leveraging a multi-channel content campaign strategy, we embarked on a journey to revolutionize their digital presence and achieve remarkable results.
The Challenge
Fierce Competition: The real estate industry is saturated with competitors vying for the attention of the same target audience.
Lead Generation: The client faced challenges in consistently generating high-quality leads from their digital efforts.
Brand Awareness: While reputable locally, the client sought to expand its reach and become a recognized name in a broader region.
The Solution
Our content campaign strategy was simple yet highly effective—combine engaging content creation with a multi-channel content campaign distribution approach. We aimed to provide value to the audience while strategically placing the client's brand at the forefront of their minds.
How Did We Make It?
Content Creation and Optimization
First and foremost, we began by conducting a comprehensive content audit and identifying gaps in the client's online presence. This included optimizing their website for search engines and user experience. We crafted a content calendar that featured a mix of:
Informative Blog Posts: Covering industry trends, buying/selling guides, and local market insights.
Engaging Social Media Posts: Highlighting properties, client testimonials, and community involvement.
Compelling Videos: Property tours, expert interviews, and client success stories.
Email Newsletters: Delivering curated content directly to subscribers' inboxes.
Multi-Channel Distribution
The key to success lay in the distribution of our carefully crafted content across multiple channels:
Website: The optimized website became a hub for valuable real estate information and listings.
Social Media: Active engagement on platforms like Facebook, Instagram, and LinkedIn increased the client's social media presence.
Email Marketing: Regular newsletters kept subscribers informed and engaged.
Paid Advertising: Strategic PPC campaigns on Google and social media channels reached a broader audience.
Community Engagement: Partnering with local events and charities fostered a sense of community and goodwill.
Data-Driven Analysis and Optimization
Our campaign was continuously monitored and analyzed. We tracked key metrics, including website traffic, social media engagement, email open rates, and lead generation. This data-driven approach allowed us to refine our strategy, allocating resources to the channels that delivered the best results.
The Results
Lead Generation Surge: 40%.

Digital Footprint Expansion: 55%

Engaged Community: 60 %

Impressive ROI: 500%
At last, our content campaign strategy made the client's brand became synonymous with expertise and trustworthiness in the real estate market. Request a free quote today and unlock the path to realizing your business objectives, just as our satisfied client did. Seize this opportunity to let us spotlight your success on the global stage.