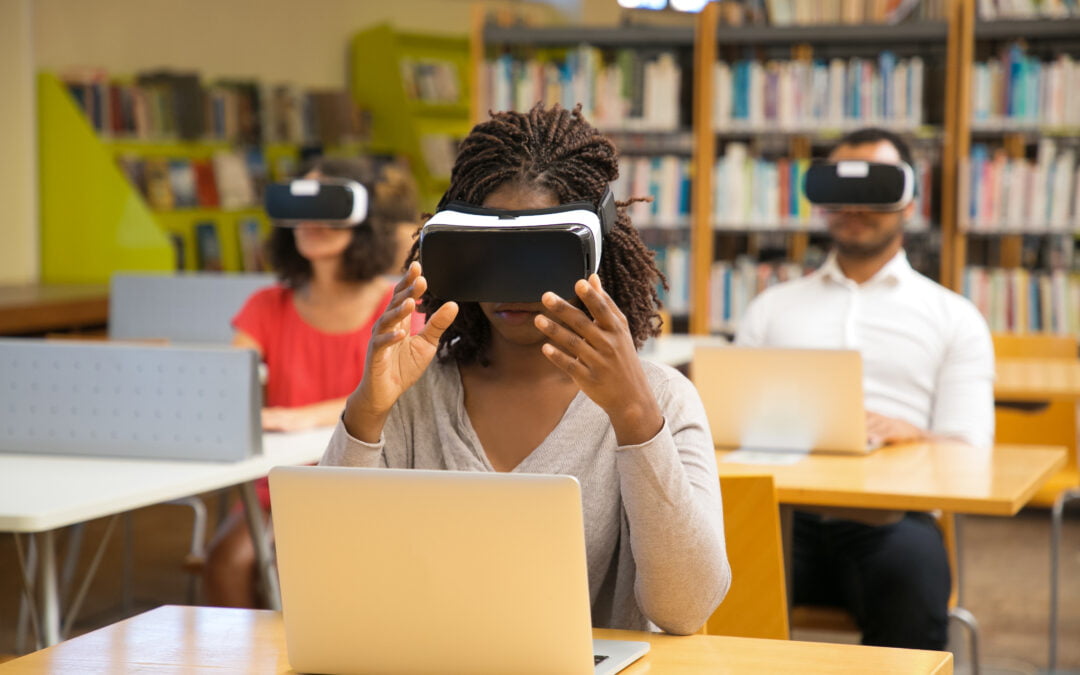 In a dynamic era of educational advancement, institutions are leveraging cutting-edge technologies to redefine the learning experience. This case study delves into the transformative journey of University, where the strategic integration of Virtual Reality (VR) and Augmented Reality (AR) has elevated traditional teaching methodologies, fostering a new era of immersive and engaging education.
Client Story
Our Edtech client, a trailblazer in higher education, recognized the imperative to transcend conventional teaching approaches. The institution embarked on a visionary path, seeking to harness the potential of augmented & virtual reality in education. With the help of these technologies, client wanted to deliver a distinctive and interactive educational milieu across diverse disciplines.
This is how our highly professional experts helped the institute with cutting-edge technology.
Overcoming Educational Hurdles- Multifaceted Challenges
The three challenges which most of the education institutes faced. Similarly, our client face too…
Engagement Deficiency: Client's traditional teaching methods struggled to captivate and sustain student interest.
Complex Subject Dynamics: Certain disciplines, notably in science and engineering, demanded hands-on experiences challenging to replicate within the confines of a traditional classroom.
Global Educational Reach: The University aspired to extend its educational influence globally, dismantling geographical barriers and ensuring access to high-quality education for students worldwide.
A Comprehensive Approach with VR, AR, and Personalized Onboarding
In collaboration with specialized augmented & virtual reality in education technology solutions, we helped the university implement a comprehensive solution comprising:
Immersive Learning Environments: VR simulations were meticulously crafted to simulate realistic learning environments for intricate subjects like biology, physics, and engineering. This immersive approach empowered students to explore concepts in a three-dimensional space, enhancing comprehension and retention.
AR-Infused Textbooks: Augmented reality was seamlessly integrated into textbooks, enabling students to unlock additional multimedia content such as 3D models, videos, and interactive quizzes by simply scanning pages with their mobile devices.
Virtual Laboratories: VR-based virtual laboratories were designed, offering students the opportunity to conduct experiments in a controlled digital environment. This addressed the limitations of physical laboratories, providing a safe and dynamic hands-on experience in subjects like chemistry and physics.
Global Learning Platform: The institution pioneered an online platform utilizing VR for live lectures, seminars, and collaborative projects. This groundbreaking initiative facilitated real-time participation for students worldwide, cultivating a global learning community.
Not only this, we also added a highly-influential strategy by creating a personalized on boarding experience for new website visitors by offering a free educational assessment or quiz tailored to their needs and goals.
The Win-Win Outcome
Elevated Engagement Levels: The incorporation of VR and AR significantly elevated student engagement, with interactive and immersive experiences capturing the attention of learners across diverse disciplines.
Enhanced Comprehension and Retention: Students exhibited improved understanding and retention of complex subjects, attributing their success to the hands-on, visual nature of VR and AR experiences.
Global Reach and Inclusivity: The online learning platform broadened the university's scope, attracting students from various corners of the globe. This not only expanded the institution's global footprint but also promoted cross-cultural exchange and collaboration.
Positive Stakeholder Feedback: Both students and faculty lauded the effectiveness of VR and AR in making learning both enjoyable and effective, marking a paradigm shift in the traditional education landscape.
We strongly believe that as the educational landscape evolves, the strategic integration of VR and AR is poised to be a cornerstone in shaping a dynamic and inclusive future of education.
Therefore, if you own an educational institute and are struggling with student engagement and participation in lessons, understanding and retention of complex concepts, or getting students to be actively involved in their learning journey, take a back seat and relax. We are here to do it for you.
Join us for a coffee meeting and discuss how our solution can help you in the most favorable ways. Connect with us now!