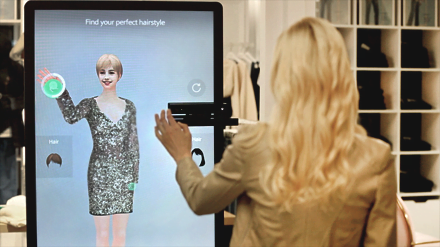 In the 21st century, technology-driven innovations like artificial intelligence (AI) or machine learning in the fashion industry are changing every aspect of this forward-looking business domain. Fashion brands, emerging designers and industry professionals can use the digital hub to interact with buyers, media, influencers and consumers from anywhere in the world through an engaging, multi-channel experience that includes chats, video conferences, bots, holograms and completely virtual spaces.
The use of AI in the fashion industry has become so well entrenched that 44% of the fashion retailers who have not adopted AI are today facing bankruptcy. Supported by the easy availability of big data, customer personalization, and other services in fashion companies are simply no longer feasible without the use of AI in fashion.
Source: https://www.chainofdemand.co/how-artificial-intelligence-is-fashions-perfect-fit/
According to TEC, the leading 20% of the global fashion brands are generating 144% of the industry profits. Driven by this necessity, fashion brands are investing in AI and ML technologies to remain relevant in a highly competitive marketplace.
Accelerating Innovation and Growth
If you aren't using Artificial Intelligence (AI) to communicate with your customers, your company is already falling behind. The ever-increasing scale and granularity of personalization in online fashion retail are impossible to manage without the assistance of AI and related automated processes. Here are some of the ways in which these technologies are making an impact:
AI- Enhanced Apparel Designing
With more sophisticated data collection, we can help fashion brands to adopt technology to understand customer needs and design better apparel. TEC can power your company using AI-powered fashion designing that is based on the customer's preferred colours, textures, and other style preferences.
AI-Powered Visual Recognition
Visual recognition is most often used on the detail pages of online stores, ensuring that customers will always find the right product. With Visual recognition we can assist online fashion retailers by providing a solution that recommends appropriate tags when adding new products to the store, saving time. Visual similarity can also be used with past products to help to purchase departments better understand the volume needed, minimizing overstock.
AI -Induced Trend Prediction & Manufacturing
TEC can help Fashion brands using AI and ML tools to identify fast-changing fashion trends and supply the latest fashion accessories to retail shelves faster than the "traditional" fashion retailer.
AI apparel and AI clothing styles: AI could be utilized to predict the next trend in fashion through monitoring social media and other data sources, learning from similar past behaviour and its results. AI-based approaches for demand projection, however, can reduce forecasting error by as much as 50%.
AI systems are being used to spot defects in fabric and ensure that the colours of the finished textile match with the originally designed colours. AI technologies such as computer vision technologies are allowing quality assurance processes to be more streamlined.
AR & VR Powered Virtual Merchandising
AI-enabled technologies like augmented reality (AR) and virtual reality (VR) are now closing the gap between online and in-store shopping experiences. TEC can help develop in-store AR that allows shoppers to access any merchandise through intelligent mirrors, smart Bluetooth tags and digital media. Using VR technology we can assist fashion brands to create a virtual image of their pop-up retail store.
AI Automation= Lesser Operational Costs
TEC with its expertise in AI and ML technologies can enable fashion houses to automate repetitive or mundane tasks usually performed by human agents. Tasks like data entry and customer support can be handled now by AI, thus freeing human agents to focus on more strategic activities.
Return of sold items is a major bane for the entire fashion industry and can increase operational costs. AI-enabled personalization and product information, customers are more informed and are less likely to buy the wrong clothing item. This, in turn, does reduce returned products and also improves customer satisfaction.
Adopting a data-driven approach is the way to go in this modern age. TEC harnesses AI and big data to make more accurate predictions. We help inform brands through product personalization and solutions in AI and machine learning technologies. AI isn't a magic formula that can eliminate every pain point at the snap of a finger. For it to be truly effective, retailers and vendors should begin entering as much data into their systems as early as possible, and start immediately. Get Your Quote Now.